I hope everyone had a lovely Thanksgiving!
I'm a little late on my post this week, after Thanksgiving I got caught up in Christmas decorating (I'll share a sneak peak when I'm all done.)
As for Thanksgiving ours was delicious and although I had lots to cook it ended up being fun.
Even (most of) the carnivores liked my vegan dishes (check out the staples of our Thanksgiving Dinner
here
.)
Thanksgiving Dinner wasn't the only delicious food we ate over the holiday.
While visiting family we (and my brother and sister-in-law) took Mr. Darling's parents out to dinner to celebrate their 30
th
Wedding Anniversary!
We took them to
Fahrenheit
a fabulous restaurant in Cleveland, more specifically Tremont Ohio.
I'm still fairly new to being gluten free and even more of a novice to eating out gluten free (GF).
Up until this point I had only eaten at restaurants that tout their GF food.
So I did what I read to do, call ahead and see if they could accommodate my vegan and gluten free diet.
I was more concerned about the GF part; I'm pretty good at navigating the vegan thing.
So I called, and asked if there was any thing for me to eat if I couldn't eat gluten.
I was fully prepared to begin explaining what gluten free was but, they were on top and all over that!
The greeter transferred me directly to the person who would be our waiter, George, he was awesome.
He knew all the dishes that were safe for me to eat and ensured me that they were very careful about cross contamination.
It turned out when I spoke to him later at Fahrenheit that he had gluten sensitivity too! There weren"t any vegan dishes on the menu but that wasn't a problem. The sides for the tuna, edamame and tomato fried rice (it did not have egg in it) with greens, sounded delish.
They had absolutely no problem making the dish that way and they made it huge. Seriously, see that big mound of rice, veggies, and greens the picture below, ya that was all mine!! They also served the curry sauce on the side.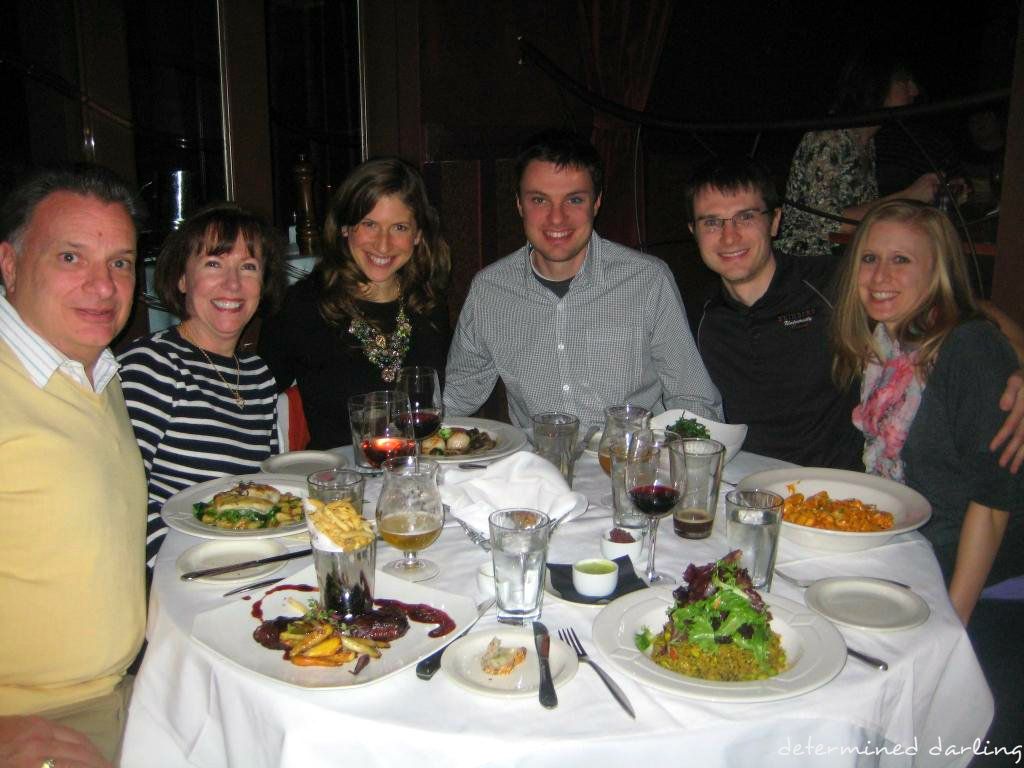 How was it?
Freakin' amazing!! It.was.delicious every bite of it !!! Everything was fresh and flavorful, not to heavy which I love and the curry sauce was delicious with a bit of heat.
I get hungry just thinking about it. I loved it so much I already put my spin on the dish and recreated it for dinner this week.
Fahrenheit
was so accommodating to my diet needs, the staff was kind and knowledgeable (George was awesome!), and the food was heavenly.
If you're in the Cleveland area and can splurge a little on a delicious, safe meal I recommend making your way to
Fahrenheit
you won't regret it!
**I have not been paid, perked, or otherwise compensated for this post.
As someone who is vegan, gluten free, or has other allergy needs isn't it nice to find somewhere safe (and ahhhmazing) to eat?
Do you have a favorite gluten free restaurant?
Do you have any restaurant dishes you have recreated in your kitchen and how did they turn out?

Linking up with: