This ain't your Mama's Thanksgiving and these aren't your Mama's Thanksgiving staples, unless of course your Mama was a hippy then, maybe.
This is actually the first year I will be cooking an entire Thanksgiving meal and my first gluten free Thanksgiving.
I am so excited!! I kept it pretty traditional for two reasons.
One tradition is comfortable and on Thanksgiving some traditions like stuffing and mashed potatoes must be followed! Two neither of our families (brothers and sisters not included) is very adventurous with their food.
New foods must be introduced slowly as not to cause heart palpitations and immediate dislike.
And under any circumstance do.not.use. the word "vegan" unless of course you want them to avoid your food like the plague.
Since I'm not quite finished finalizing our feast (I'm such a procrastinator) I wanted to leave you with some recipes for the staples of our feast.
Determined Darling's Gluten-Free, Vegan Thanksgiving Staples
Lentil Loaf
Forget the turkey and enjoy this yummy loaf!
Garlic Parsley Mashed Potatoes
Hello creamy garlic heaven!
Lovely Lady Stuffing
Bright pink lady apples make this stuffing amazing!

***
Click Here
for a
printable document
of all these delicious dishes***
Lentil Loaf
Ingredients:
2 cups cooked lentils
2 cups cooked quinoa
1 large onion diced
8 oz mushrooms halved
2 medium carrots grated
¼ cup Nutritional Yeast
½ cup garbanzo flour
2 cloves garlic
2 tbsp Bragg Liquid Aminos
2 tsp turmeric
1 tsp oregano
1 tsp thyme
½ tsp onion powder
½ tsp garlic powder
½ tsp pepper
dash of salt
Directions:
1.)
Preheat oven to 375 F
2.)
Sautee onion and garlic until golden
3.)
Add mushrooms and sauté covered until tender 8 minutes
4.)
Meanwhile grate the carrots
and combine with quinoa and half the lentils in a large bowl
5.)
Remove mushroom mixture from the heat and allow to cool for a few minutes
6.)
Add mushroom mixture and half the lentils into a food processor, pulse until thick and combine but with texture
7.)
Add the mushroom lentil mixture to the bowl with the quinoa, carrots, and whole lentils. Stir to combine
8.)
Add nutritional yeast, Bragg, and spices, stir to combine
9.)
Add garbanzo flour and stir to combine *The mixture will be wet and stick but hold together well
10.)
Place parchment paper in a 9 x 5 loaf pan and oil the paper
11.)
Add mixture into the loaf pan and bake at 375 F for about 90 -100 minutes or until a knife stuck in the center comes out clean
12.)
Remove from pan by lifting out using the parchment paper, allow cool for a few minutes, slice and serve!
Garlic Parsley Mashed Potatoes
Ingredients:
5 lbs Russet Potatoes, skins on!
3 cloves garlic minced
½ cup vegetable broth
¼ - ½ cup finely minced fresh parsley
1 tsp salt
Pepper to taste
2 tbsp Earth Balance (or other butter substitute)
Directions:
1.)
Clean potatoes, cut into large chunks, place in a large bowl and cover with water
2.)
Bring to a boil and cook for about 30 minutes until tender
3.)
In a small pan saute the garlic in Earth Balance until fragrant (about one minute)
4.)
Drain the potatoes and put in a large bowl mashing slighting with a potato masher
5.)
To the potatoes add the garlic butter, 1 cup veggie broth, salt, and pepper
6.)
Mash until desire consistency is reached, ( I like mine lumpy!) adding more broth if needed
7.)
Add parsley and stir to combine
Serve immediately!
Lovely Lady Stuffing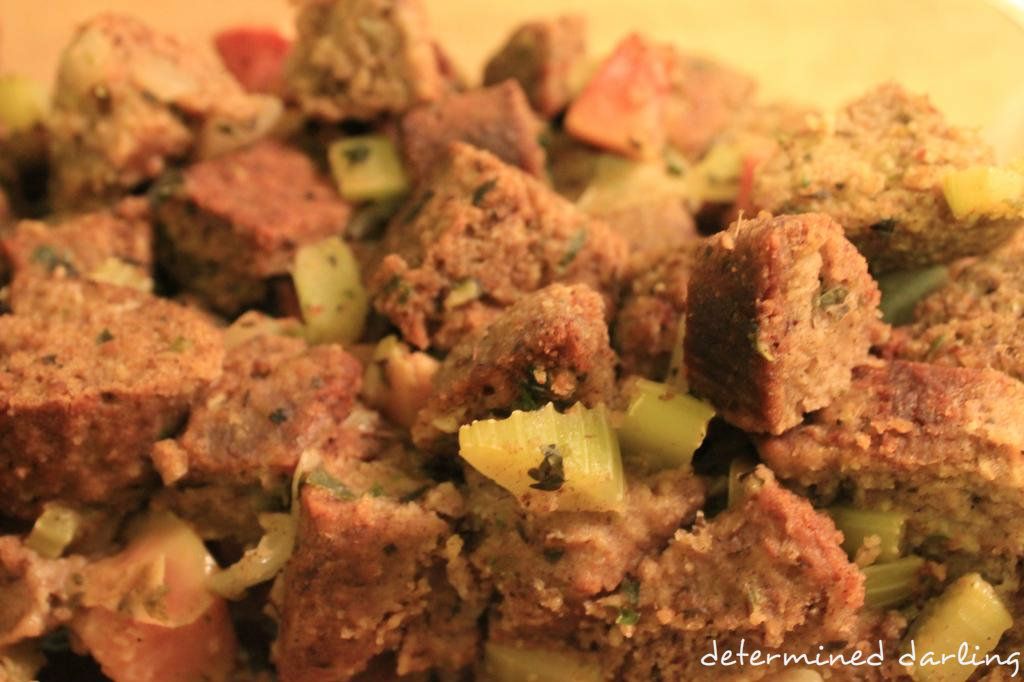 Ingredients:
11 cups 1 inch homemade croutons (check out my recipe
here
)
2 cups onion diced
2 cups celery chopped
2 pink lady apples, cored, then diced
2 cloves garlic minced
1 tsp oregano
1 tsp thyme
½ tsp sage
½ tsp salt, to taste
½ tsp pepper, to taste
¼ cup fresh chopped parsley
2 -3 cups vegetable broth
1 tbsp extra virgin olive oil
Directions:
1.)
Preheat oven to 375 F
2.)
Put croutons into a large bowl
3.)
Saute onion, celery and garlic in extra virgin olive oil until golden
4.)
Add apples, parsley, and a dash of salt and pepper
5.)
Saute for 3-5 minutes until soft
6.)
Add sautéed veggies to the bowl with croutons
7.)
Add oregano, thyme, sage, salt, and pepper.
Stir to combine
8.)
Add veggie broth and stir to combine.
Mixture should be soft
9.)
Put the mixture into a baking dish and bake at 375 F for 30 minutes covered with foil and 15 minutes uncovered.
10.)
Remove, Serve, and Enjoy!
What are your favorite vegan Thanksgiving dishes? And what are you most looking forward to on Thanksgiving Day?

Linking up with: