Can you believe Thanksgiving is a week and half away? I have been cooking like mad to finalize my Gluten-Free Vegan Thanksgiving Staples! I'll be sharing them with you near the end of the week accompanied with a printable version so you can easily print it out and use some or all of the recipes for your Gluten-Free and Vegan Thanksgiving dishes!
Why buy a bag of little rock hard stale bread pieces, I mean croutons, when you can make them yourself?
This easy peasy recipe can be whipped up in a few minutes using store bough or homemade bread.
FYI homemade is better!
I wish I could say I have created awesome gluten free bread recipe but I haven't.
I am still fairly new to gluten free and baking.
I'm slowly learning and hopefully someday I will have my own recipe to share.
Until then I needed some freakin' bread to eat I couldn't stand those store bought excuses for gluten free bread one more second.
Thankfully I found this healthy gum and
glutenfree bread recipe
(I make the vegan version) from
Gluten Free Girl and The Chef
.
It is pretty darn good and makes delicious croutons!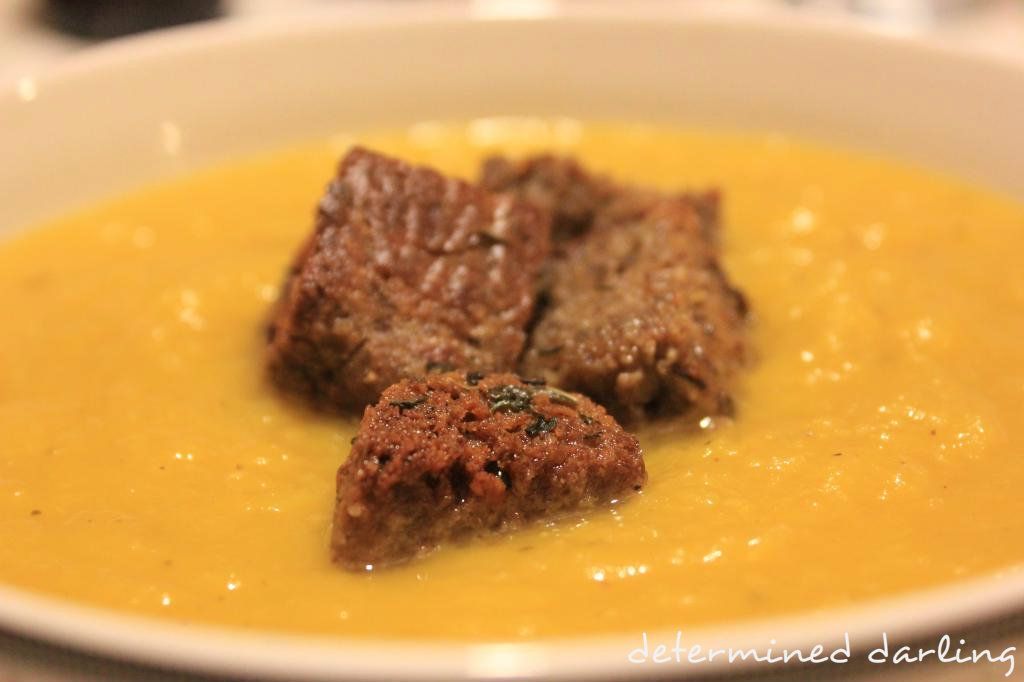 Better Than the Bag Croutons
6-7 cups gluten free bread cut into 1 inch cubes
Extra Virgin Olive Oil
1 tsp salt
1 tsp garlic powder
1 tsp onion powder
1 tbsp oregano
1 tbsp thyme
½ tsp pepper
Directions
1.)
Preheat oven to 400 F
2.)
Place croutons in a large bowl
3.)
Drizzle EVOO over bread to coat
4.)
Sprinkle spices over bread and toss to coat
5.)
Spread out on a baking sheet and bake for 15-20 minutes – check after 10 since oven temperatures vary and you don't want them to burn
6.)
Remove when browned* and crunchy on the outside.
(* The bread pictured is already brown in color because of teff and buckwheat, your croutons don't need to be this brown.)
Use these delicious croutons to top salads, soups, and make heavenly stuffing (recipe coming later this week!)
What do you love to do with croutons? Top soup or salad or just eat them like Mr. Darling does?

Linking up with: