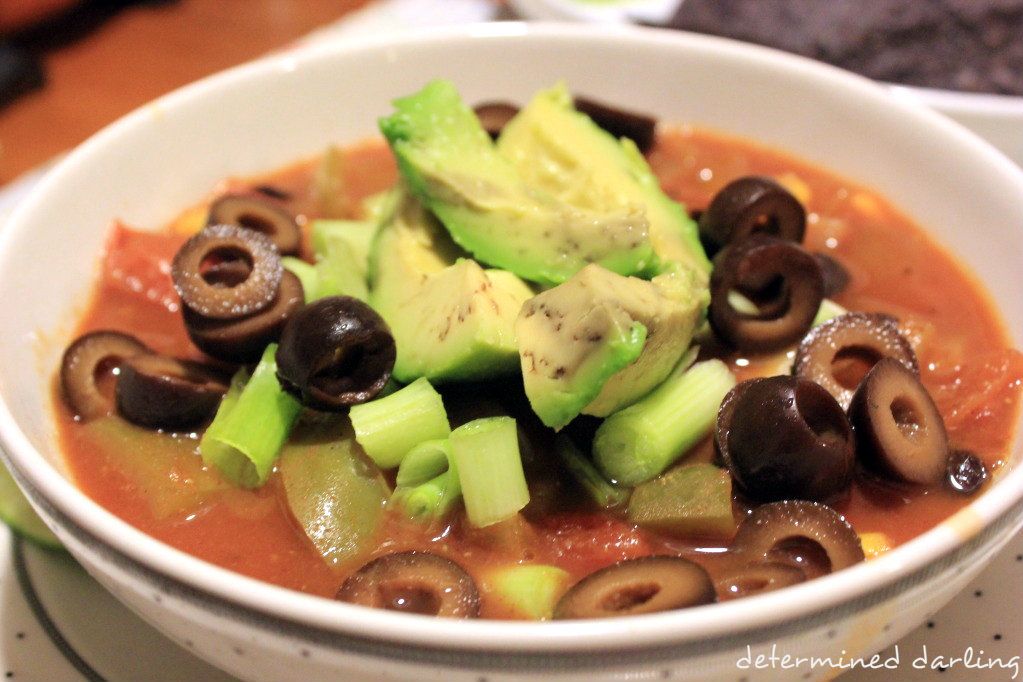 Isn't it funny how the smell and taste of food can bring about vivid memories?
For me, the smell of celery and onion reminds me of my Mom and Grandma preparing Thanksgiving dinner and Mexican food reminds me of college taco nights with friends.
In college my roommates and cross country teammates and I had taco night at least twice a month.
It always involved a ton of tacos, tortilla chips, salsa, and guacamole.
And although the tacos we ate then are vastly different than any I would make now, cooking Mexican food still makes me want to invite friends over for dinner!
Since then my idea of Mexican has broaden and I've learned it can also be healthy (not like the greasy tacos of my college days!)
T
his delicious and healthy Mexican Chili is my take on taco soup.
Let's start with the yummy ingredients.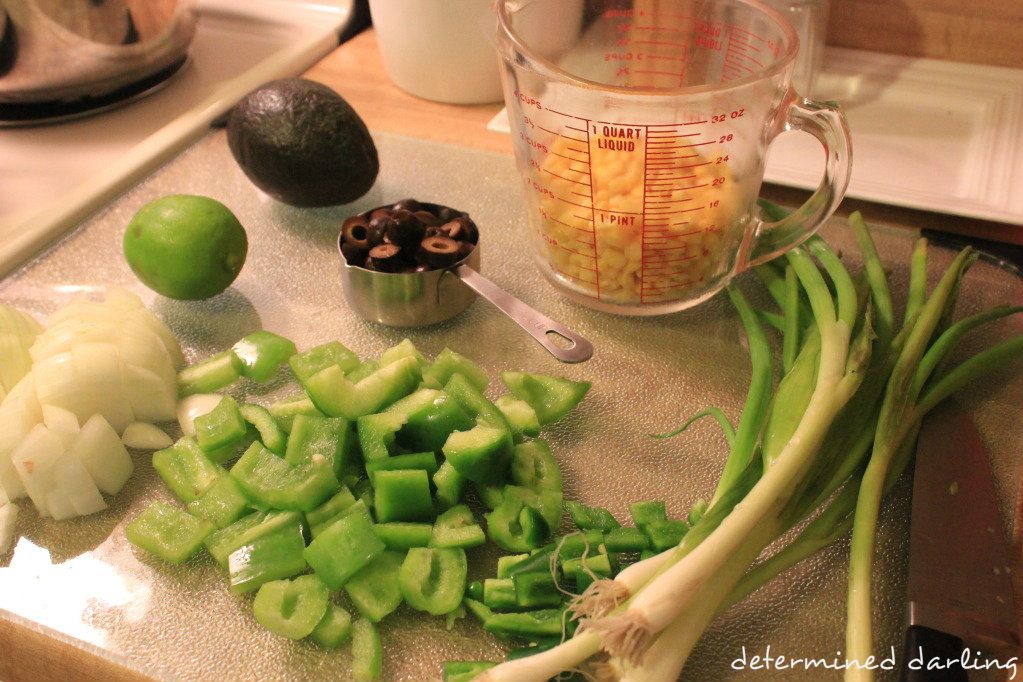 Onion, jalapenos, peppers, corn, and beans in a spicy tomato broth make a hearty Mexican chili.
Toppings like olives, green onions, lime, and avocados cool down the spice and make it extra delicious.
This spicy, hearty, healthy chili is the perfect meal to invite friends over for dinner on a cold evening.
Mexican Chili
Gluten free, Vegan, Vegetarian, Dairy-Free, Egg-Free, Soy-Free
1 tbsp extra virgin olive oil
1 large onion diced
1 large green pepper diced
2 cloves garlic minced
1 jalapeno, seeds removed, diced
2 cups cooked kidney beans – equals one 15.5 ounce can
2 cups cooked black beans –equals one 15.5 ounce can
2 cups fresh or frozen corn
1 14.5 ounce can diced tomatoes
1 14.5 ounce can tomato puree
4 cups veggie broth
Spices:
2 tbsp chili powder
1 tbsp cumin
1 tsp paprika
1 tsp salt
1 tsp pepper
½ tsp onion powder
½ tsp garlic powder
½ tsp oregano
¼ tsp red pepper flakes
¼ tsp cayenne
Toppings:
green onions
olives
avocado
fresh lime juice
you could also use:
shredded cheese (vegetarian) or vegan cheese
cilantro
diced tomatoes


Directions:
1.)
Sautee onion in the olive oil over medium heat until golden.
2.)
Add garlic and sauté for about a minute more.
3.)
Add green and jalapeno peppers and sauté for about 3-5 minutes.
4.)
Add veggie broth, tomatoes, beans, corn, and spices.
5.)
Bring to a boil, reduce heat to low and simmer, covered for 20 minutes or until the veggies are tender.
6.)
Serve in individual bowls with toppings and a side of tortilla chips and salsa.
Do you get all nostalgic over Mexican food like I do, if not, what foods bring up good memories for you?
And what is your favorite,
healthy
Mexican food?

Linking up with:
http://www.oneshetwoshe.com/
http://www.sixsistersstuff.com/2012/10/strut-your-stuff-saturday-link-party_19.html
http://www.youngnesters.net/search/label/Snacktime%20Saturday
http://www.theveggiemama.com/
http://www.creatingreallyawesomefreethings.com/
http://www.makeaheadmealsforbusymoms.com/melt-in-your-mouth-monday-recipe-blog-hop-87-2/
http://jessica-healthymommyhealthybaby.blogspot.ca/
http://littlehouseinthesuburbs.com/
http://www.realfoodwholehealth.com/2012/10/fresh-bites-friday-october-19-2012/
http://onecreativemommy.com/halloween-shakes-sundaes-gluten-free-monday-5/
http://vegetarianmamma.com/
http://www.serenitynowblog.com
http://www.happygoluckyblog.com/
http://craftionary.net/
http://amy-newnostalgia.blogspot.com/
http://www.wildernesswife.com