(Here in PA we are hunkered down waiting for Hurricane Sandy to come.

Right now we have rain and a little wind but, they are calling for fierce wind, flooding, and power outages.

Thinking of everyone on the coast and anyone else affected by this storm, here's to hoping everyone stays safe!)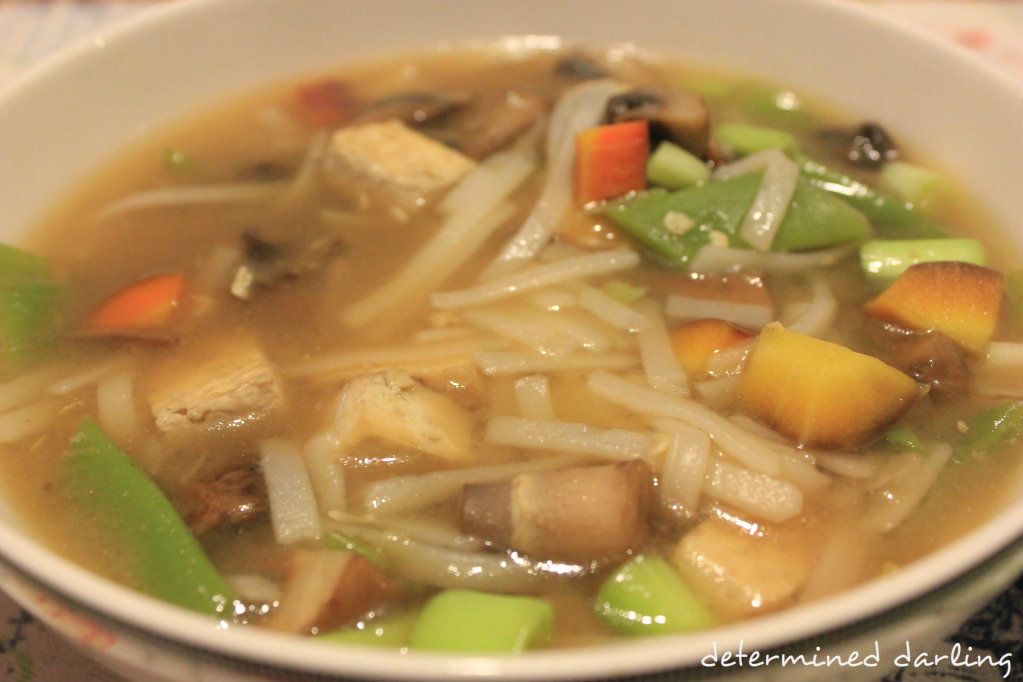 In college one of my favorite fast (i.e. packaged) "meals" was Undon Miso Soup.
Now,
since I try to avoid anything package I haven't eaten this soup!
How silly is that, it is so easy to make.
When I'm trying a recipe for the first time I search around for inspirational recipes and then I make my own!
The best place to go for inspiration, Pinterest of course!
(C
heck out my
Real (yummy) Food board
for more inspiration.
)
I found and pinned a yummy looking
Miso Soup recipe from Flourishing Foodie
.
I used her recipe as inspiration and made my own Miso Noodle Soup.
Miso Soup is one of my favs and is said to make a healing soup.
Miso is a complete protein that is high in antioxidants and B vitamins.
I'll talk more about the healing affects of Miso when I share with my "Hearty Healing Soup."
It is important to purchase a quality Miso to avoid genetically modified ingredients. For those of you who avoid soy there are good soy-free Misos available, in fact this soup is made with soy-free Miso.
Additionally, it can be difficult to find a gluten-free Miso. Beside the likelihood of gluten ingredients, the starter culture Koji, is often barley.
I have found and love South River Miso, they have eight varieties of Miso with no gluten ingredients.
It is a high quality, organic Miso. A word of caution for those who eat GF, their "gluten free" Misos are made on the same equipment as the gluten varieties. They are never made at the same time and the equipment is washed between batches. You can read more at
South River Miso
.
So far I have not had a problem, as always use at your own risk.
If anyone knows a different Miso that is GF I would be very interested to know!
Other ingredients include garlic, mushrooms, carrots, scallions, and green beans from our CSA basket, you could sub snow peas for the beans and it would be equally delicious.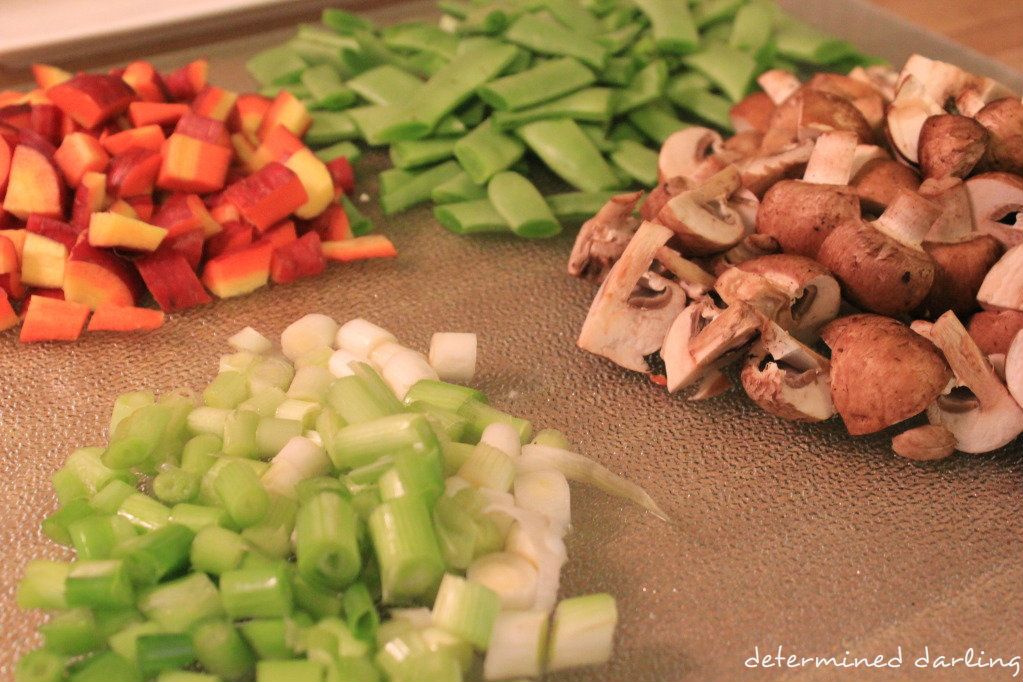 Baked tofu adds heartiness to this simple soup. I started by slicing and pressing the tofu for about 30 minutes.
Then I diced it into bite size pieces and covered with a little extra virgin olive oil, Bragg Amino Acids, and lemon juice.
Then I baked it at 375 F for about 20-30 minutes (stirring halfway through) until the tofu is tender but crispy and lightly browned on the outside.
You can add the tofu directly to the soup but I like the bit of crispiness baking gives the tofu.
I sauteed the carrots and garlic in extra virgin olive oil until golden, added the rest of the veggies, broth, and water.
Allowed the soup to simmer for about 30 minutes until the veggies were tender.
Then I added cooked rice noodles.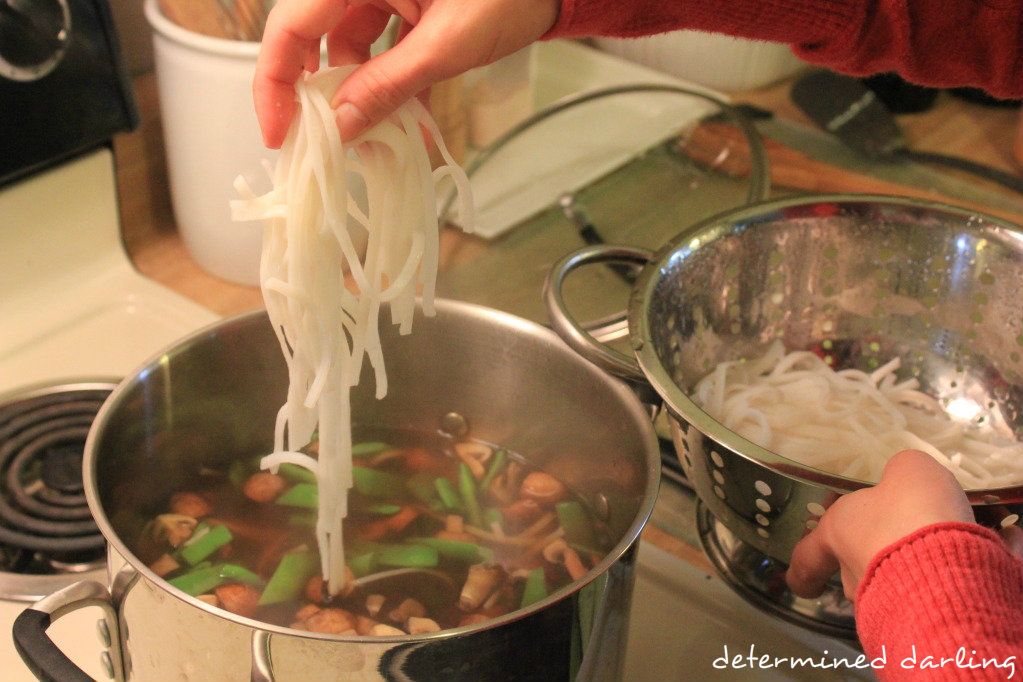 For the noodles I used Pad Thai rice noodles. These are easy to find in your grocery store's Asian food section.
Many are gluten free but be sure to check, I used Annie Chung's Pad Thai Rice Noodles.
When the soup is almost finished it's time to add the Miso.
I p
ut a few ladles of broth in a measuring cup because I didn't want to dirty more dishes!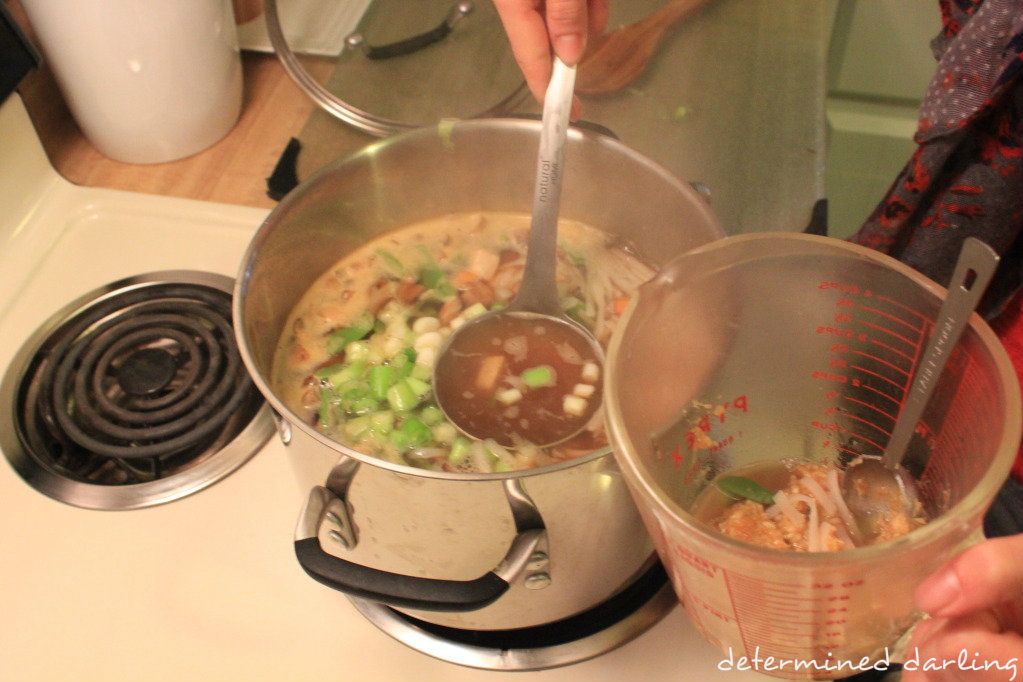 Then I put 4 tablespoons of Miso in the bowl and stirred to combine. It was pointed out by one of my darling readers Mary H. how important it is to mention you never want to boil Miso as it destroys the beneficial microbes in the paste.
This mixture was added back to the soup and
then Mr. Darling and I gobbled up a couple bowls (of soup, we didn't eat bowls haha)!
This is a perfect soup for a cold day!
Miso Noodle Soup
gluten free, vegan, vegetarian, dairy-free, egg-free
14 oz firm tofu
5-6 ounces cooked rice noodles
8 oz mushrooms quartered
3 cloves garlic minced
4 carrots diced
1.5 cups fresh green beans diced
1.5 cups scallions thinly sliced
3-4 tbsp Chickpea Miso (substitute another light Miso if you like)
4 cups vegetable broth
4 cups water
3 tbsp Bragg Amino Acids (soy sauce or another alternative)
1 tsp turmeric
Pinch red pepper flakes
Extra virgin olive oil
Juice of half a lemon
Pepper to taste
Directions:
1.)
Press tofu slices for 30 minutes, dice into small bite size pieces, cover lightly with olive oil, juice of half a lemon, and pepper, bake at 375 F for 20-30 minutes (stir halfway through) until lightly browned.
2.)
Meanwhile, saute the garlic and carrots in 1 tbsp olive oil until golden.
3.)
Add the remaining vegetables, broth, water, and Bragg.
Bring to a boil, reduce to simmer, and let simmer, covered 20-30 minutes until veggies are tender.
4.)
Reduce the heat to low, add in the baked tofu and cooked rice noodles, stir to combine.
5.)
Ladle about ½ cup of broth into a small bowl, to it add 3-4 tablespoons Miso and stir to combine.
6.)
Add the Miso mixture to the soup and stir to combine.
Taste and adjust seasonings if necessary.
Note: I do not add salt to this soup with the broth, Bragg, and Miso I feel it is salty enough, if I do feel it needs more salt I add a little more Bragg.
A hot bowl of Miso soup is perfect for warming you up on a cold, rainy day.
Here's to hoping it keeps Mr. Darling and I warm as Hurricane Sandy passes.

Linking up with: