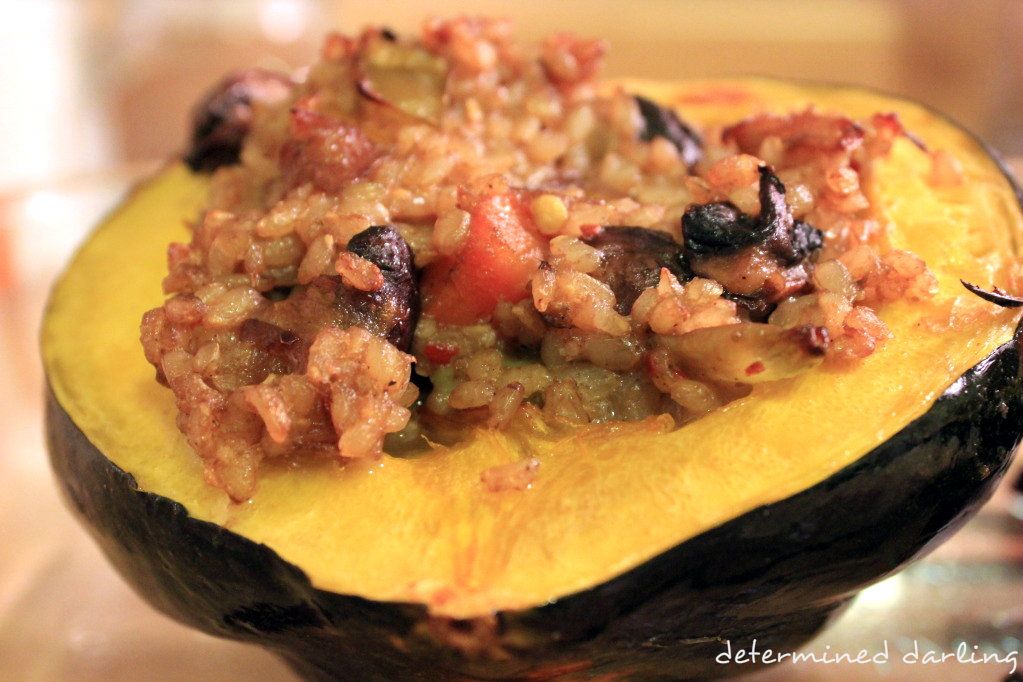 I love fall, the crisp air, the smell of leaves, and all the delicious harvest food.
Nothing says fall like the winter squash harvest.
Winter squash has been popping up in our
CSA
basket for the last couple weeks and I have been whipping it up into as many recipes as I can think of.
I adore eating seasonally and winter squash provides the hearty and warm dishes I'm craving now that the weather has turned cold.
This week I have a few squash filled recipes to share!
We'll kick off
"winter squash week"
with the lovely acorn squash.
A ridged (usually) dark green squash (they can be tan or yellow) with sweet yellow-orange flesh and a good source of vitamin C, A, and B6.
I find their round shape makes them the perfect squash to stuff.
(And save the seeds they are delicious to roast, recipe coming this later week)
I stuffed the squash with a vegetable rice mixture that got deliciously crunchy as it baked in the oven.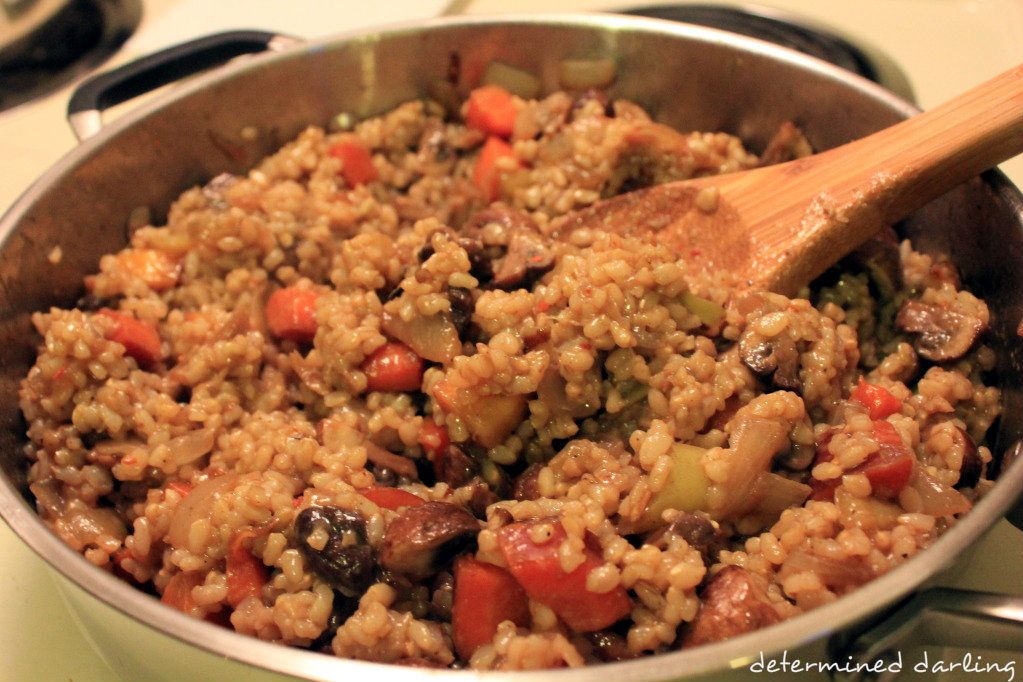 It was so delicious I took the leftover stuffing (for one squash you will have extra) and baked it in oven to give it that delicious crunch…leftovers.were.amazing!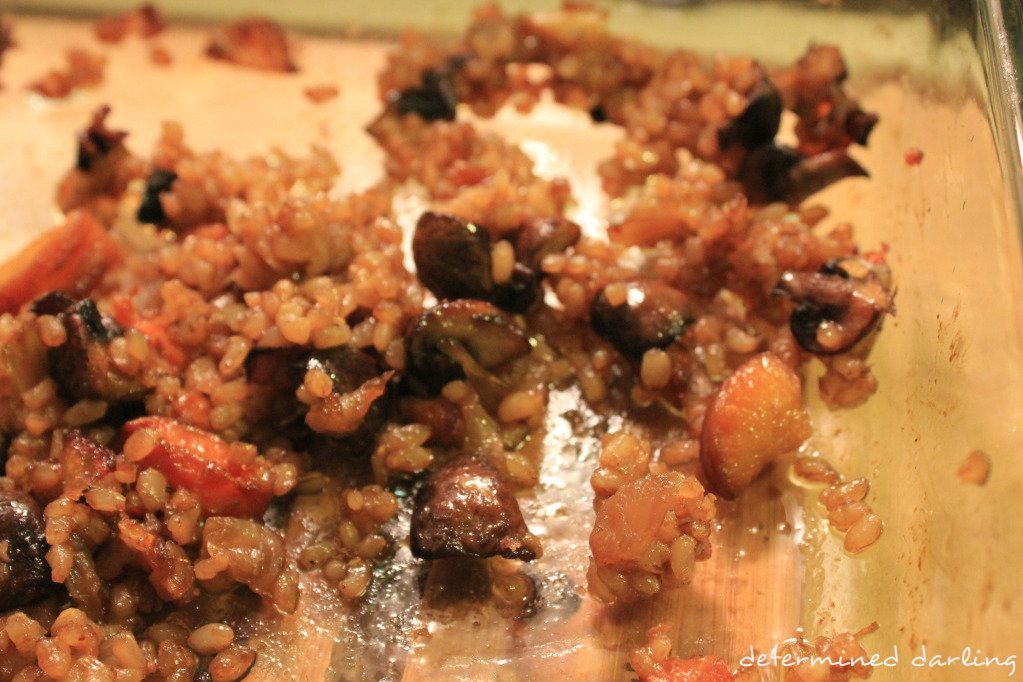 The main dish was just as amazing with that soft but crunchy rice mixture inside the baked squash. YUM.

Rice & Mushroom Stuffed Acorn Squash
Gluten free, Vegan, Vegetarian, Dairy Free, Egg Free
1 acorn squash (although the stuffing could fill 2 if you wanted)
2 cups cooked brown rice
1 onion diced
1 mild pepper diced
2 large carrots diced
8-10 ounces mushrooms quartered
1 tablespoon Bragg Liquid Aminos (or gluten-free soy sauce)
1 tablespoon (soy free) Earth Balance (or butter) (plus a little more for topping)
1 teaspoon red pepper flakes
About 1.5 tablespoons EVOO
Salt and pepper to taste
Directions:
1.)
Preheat oven to 375 degrees F
2.)
Cut squash in half and remove seeds – save them for roasting check out my recipe
here
!
3.)
Put the squash in a baking dish, face up, lightly rub with EVOO place in the oven and bake for 25 minutes
4.)
While the squash is baking heat 1 tablespoon of oil in a large skillet over medium heat
5.)
Add the onion, carrot and red pepper flakes and saute until golden, about 5 minutes
6.)
Add the pepper and mushrooms, cover and cook until tender, about 10 minutes
7.)
Stir cooked rice, Bragg, and Earth Balance into the pan and heat for about 3 minutes
8.)
Remove squash from oven and spoon rice mixture into the squash
9.)
Top each squash half with a small amount of Earth Balance
10.) Bake at 375 F for 30 more minutes or until the squash is tender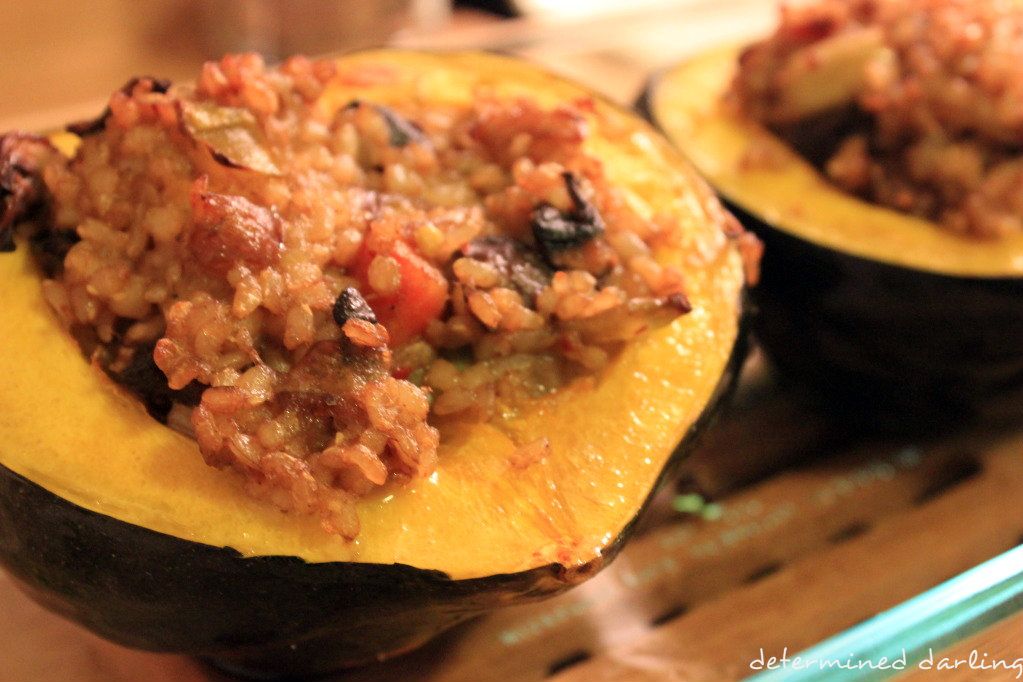 TIP: If you use one squash you will have left over rice mixture and it is fine to eat the way it is.
However, if you want to make it really delicious put it in a baking dish topped with a little Earth Balance and bake along with the squash for about 20 minutes.
It will be soft, hot, and a little bit crunchy soooooo good.
Do you love all the winter squash available this time of year?
What's your favorite squash dish?
Check out the second recipe of Squash Week for my Rosemary Roasted Squash seeds
here
!!

Linking up with: