In case you missed my post over at
OneCreativeMommy.com's
12 Days of Christmas
Gluten Free Monday, I'm sharing it here today. I know I said I would share my how to make homemade roasted tomatoes but with cookie baking, present wrapping, digging out of over a foot of snow, and travel I just didn't have time to do it justice. I promise to share after the holiday!
This is an awesome recipe just in time for your holiday breakfast!!
One of my favorite things about Christmas is having Christmas breakfast with my Dad.
It's a tradition I still cherish today.
This year I thought I would whip up a yummy vegan tofu scramble.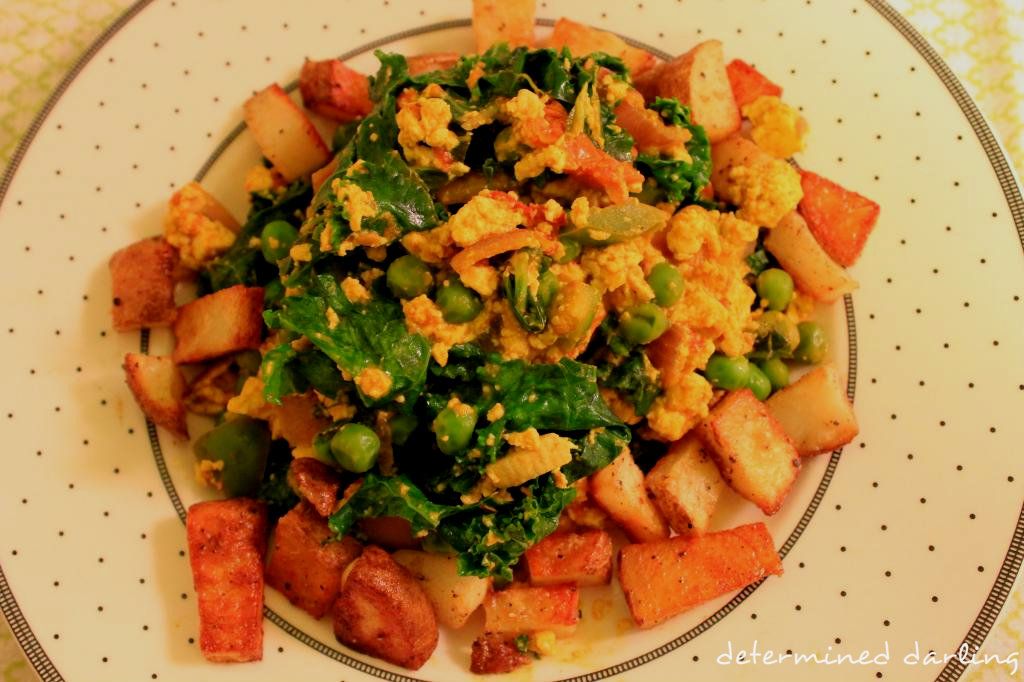 Perfectly seasoned tofu with lots of veggies makes the perfect Christmas breakfast and gives you energy for a long Christmas day.
Vegan Christmas Scramble
1 14.5 oz package firm tofu drained, pressed, and crumbled
2 cloves garlic minced
1 large green pepper diced
1 large bunch kale chopped
1.5 cups peas
1 cup roasted tomatoes (this is easy to do at home I'll be posting how on DD next week)
¼ cup nutritional yeast (this is not active yeast, you can find it in the natural baking isle of most large super markets, it has a cheesy flavor)
½ tbsp cumin
1.5 tsp turmeric
½ tsp onion powder
½ tsp garlic powder
1-2 tbsp Bragg Liquid Aminos (or gluten free soy sauce)
Pepper to taste
Pinch of salt
1 tbsp extra virgin olive oil
Directions:
1.)
After pressing and draining tofu crumble it into a small bowl
2.)
Add the nutritional yeast, turmeric, cumin, garlic powder, onion powder, salt, pepper, and 1 tablespoon Bragg.
Stir until tofu in coated with spice mixture.
Set aside
3.)
Sautee onion in olive oil until golden about 5 minutes
4.)
Add garlic and sauté until fragrant about 1 minute
5.)
Add pepper and kale and sauté until soft about 5 minutes
6.)
Add peas and tomatoes cook until hot
7.)
Add 1-2 tbsp of Bragg and combine
8.)
Turn heat to low and add tofu cook until hot and most of the liquid is gone
9.)
Enjoy! (I sprinkled some homemade home fries around the scramble to make Christmas breakfast extra special.)
Have you ever tried a tofu scramble? If not you should!!

*Wishing you a happy and very Merry Christmas and Happy New Year*
I'll be back to posting regularly after January 1st! XOXO

Linking up with: